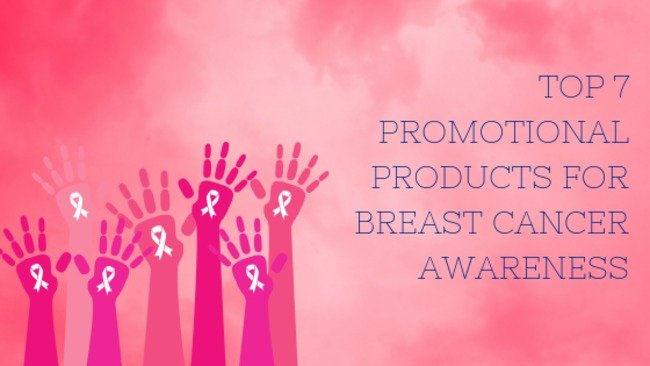 Top 7 Promotional Products for Breast Cancer Awareness
Posted on 2018-10-11 by Jennifer Taylor
---
Social responsibility is a big priority for many companies and branded promotional products are an important component of any awareness initiative. Pairing your brand with a cause shows goodwill towards your customers, employees and the community as a whole. In honor of Breast Cancer Awareness month, here are our top 7 promotional products for breast cancer awareness:
1. Custom Awareness MopTopper™ Stylus Pen & Notebook – A pen and notebook set keeps your logo and brand top of mind when it comes to raising awareness. This set includes the MopTopper™ screen cleaner with pink stylus pen and spiral bound plastic notebook with the encouraging message "Be strong & fight on."
2. Ribbon Grocery Shopper – With everyone being more environmentally conscious, what better way to then support a cause and help the environment? Putting it on display creatively with this ribbon reusable bag, you also be able to feature your brand/logo as well. Since this edition of the awareness collection is both reusable and hand washable, they're a sustainable advertising solution that puts your brand and cause on display while helping them ditch the plastic bag.
3. Awareness Ribbon Stress Reliever – Stress relievers are already a top promotional product – what better way to help spread the important health message and relieve stress while doing so? Perfect for fundraising events, show your support to a worthy cause with your logo and message.
4. Pink Sunglasses – Make a lasting impression with our sweet sunglasses! This vibrant fun in the sunglasses will give off style while protecting eyes from harmful rays. With a UV rating of 400 and a bright pink color, this may be the perfect choice for your promotional giveaway.
5. Breast Cancer Awareness Bookmark – Early detection is key when it comes to fighting breast cancer. With this useful bookmark, you can significantly improve your ability to combat the disease. A must have for any woman, this fully customizable bookmark is printed with tips on self-exams. This makes for an excellent salesperson leave-behind product, for pharmacies or doctors offices, or for general education.
6. Chill-Out Cooling Towel and Bottle – Perfect for encouraging healthy active living and self-care. The towel instantly cools when wet with water and features mesh-like construction. It comes in a clear plastic bottle for easy and convenient storage too!
7. Awareness Ribbon Key Chain – Everyone has keys and a simple pink ribbon may just be the key (no pun intended) to get the message of the cause out there. An affordable choice and perfect for many different events or functions such as car dealerships, tradeshows, charity events or runs!
Regardless of the promotional product, the need for breast cancer awareness should spread beyond October. Imprint Logo offers a variety of different affordable promotional products to spread the word about Breast Cancer Awareness all year long! Shop more items here.
---