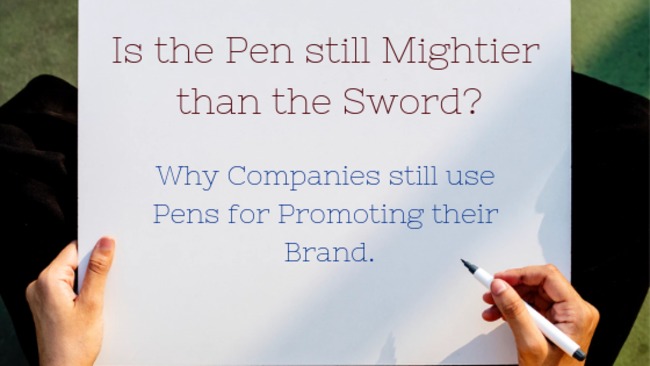 Is the Pen still Mightier than the Sword? Why Companies still use Pens for Promoting their Brand.
Posted on 2019-02-15 by Carol Burns
---
We all have them - pens with every logo imaginable that we somehow acquired and kept in our purse, our desk, our pocket. Have you ever wondered why many companies choose something so simple to share their brand with the world? Sure, there are hundreds, maybe thousands of other promotional items they could put their company name and number on, but are there any more popular than the lowly pen?
-Pens are shared with others - How often have you given a pen to someone to use and told them to keep it? Or asked someone if you can borrow theirs? Pens get shifted from user to user whether it's at the office, in a store, or even in your home which gives your brand maximum exposure.
-Pens are useful - Unlike other marketing items that are fun but not terribly useful that get thrown in a drawer (or even worse, the garbage), people will keep using a pen until it no longer writes. This gives it a remarkable shelf life as a promotional tool.
-Pens are affordable - Most pens can be purchased in bulk with your custom imprinted logo and message on them for very little. This makes them a perfect giveaway for customers, at trade shows, or any event.
-Pens are classic - Everyone knows what to do with a pen, unlike some of the new higher tech products that seem geared towards the younger tech-savvy audience. Whereas a lot of companies are spending their dollars on the new and trendy, you can get the most bang for your buck with your information on a good old fashioned writing tool.
-Pens come in all styles - If being cost-effective isn't your number one concern, you can purchase some very upscale pens which are perfect to engrave for your staff, for management, to send to VIP customers. There is no limit to the different pens you can purchase. Novelty pens, executive pens,plastic pens, stylus pens... the list goes on. Choose the best fit for your marketing or advertising campaign and imprint with the message you want to share.
So write your success story with one of these timeless promotional items. We have several available for you at www.imprintlogo.com, or at our brand new site www.penmonster.com
---