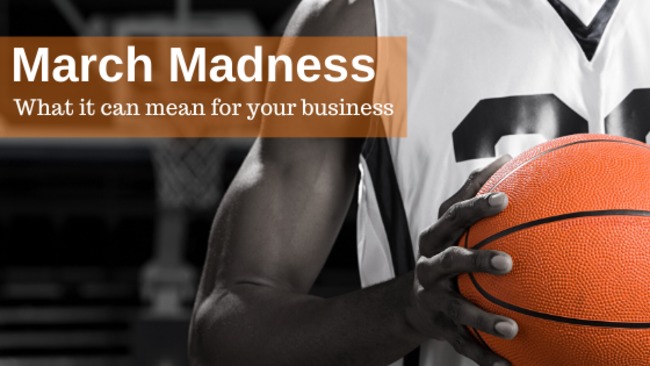 March Madness - What it can mean for your business
Posted on 2020-02-12 by Carol Burns
---
March Madness! For some, this brings to mind big sales in retail stores, but any sports fan knows it's the biggest thing in the NCAA Division Men's Basketball. March Madness is a single-elimination tournament played each spring in the United States, currently featuring 68 college basketball teams from the Division I level of the National Collegiate Athletic Association (NCAA), to determine the national championship. The tournament was created in 1939 by the National Association of Basketball Coaches, and was the idea of The Ohio State University coach Harold Olsen. Played mostly during March, it has become one of the most famous annual sporting events in the United States.
Why do we love March Madness? It's the perfect event to get your company logo on all kinds of promotional items, and into the hands of consumers. We have all of the basketball items you need to get into the game. Whether you want to give away personalized mini basketballs, cheer on your favorite team with our fun cheering products, or watch the game with a cold drink in hand with our custom drinkware, we will make sure your March Madness is a slam dunk. No matter who wins the game, your company is the big winner with our line of fully customizable promotional basketball items.
Check out some of our unique March Madness products:
1) Photo Basketballs- Add a personal touch with our Photo Basketballs. This product is a great way to cherish your team and season for years to come. Add your personalized full color print to a mini basketball or full size basketball today!
2) Full Size Basketballs- These basketballs are offered in large variety of different colors and styles! Choose the design that best represents your brand and we will do the rest to make your product a hit.

3) Rally Towels- Always a unique and fun keepsake, print your brand or logo on our awesome line of rally towels! Perfect for school events, sporting events, job fairs and more, get excited with rally towels. With eye-catching colors, styles and design options available, you will have something to cheer for!
4) Can Koozies - Keep your favorite beverages cold and keep your brand in the spotlight with our custom line of Can Coolers! From bottled water holders, custom printed foam can Koozies and Coolies more, add a personal touch to your drink. Drink in style!
March Madness has already begun, get your game on TODAY before it's too late!
---