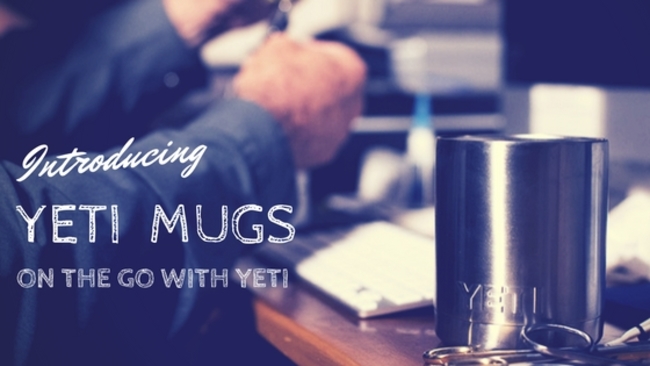 On the Go with Yeti
Posted on 2018-02-15 by Carol Burns
---
How does an insulated cup become something that everyone needs? Yeti brand travel mugs are top quality products that are known for their ability to keep your drinks at optimum temperature no matter how extreme the conditions. While many of us associate them with explorers in the Arctic, or construction workers out in the heat all day, these travel mugs have become a necessity to the every day person on the go.
The dictionary defines "on the go" as being busy and active, hardworking, in a hurry... which in itself defines how many of us live our life. Sometimes it seems we are always on the go. Go to school, go to work, go to meetings, go to the gym, go to pick up the kids, go to hockey, go to ballet, just go go go. Even our recreational activities; go to the lake, go to the game, go to see family, go fishing, go camping, go hunting... go go go. And how do we keep going? For me it's a latte in the mornings, tea in the afternoon, and a nice cold drink later in the day. Everywhere you look, people have two things in their hands - their phones and yes….. their beloved travel mugs.
How can this help your business? Travel mugs are available everywhere but the majority of them seem to be almost disposable. We know when buying them, we will buying another before long. The Yeti line is designed to last for years - surviving drops, left in the cold car overnight, or out on the deck in the rain. What better way to show how much you appreciate someone than to give them a custom Yeti with your logo to remind them for the next decade (or more) how much their business or hard work meant to you.
You can use this amazing promotional item to:
Say thank you for your business and create customer loyalty

Say "I appreciate you" to your employees

Welcome new customers at a Grand Opening, anniversary event, or trade show

Reward top earners or contest winners

As an end of season gift to parents, coaches and players

family reunions or retreats
There are many custom promotional items your business could use for any of these or as a key advertising tool but the Yeti mug stands out from the crowd as a quality gift that can be enjoyed on the go for years to come.
www.minithrowballs.com www.imprintlogo.com
---