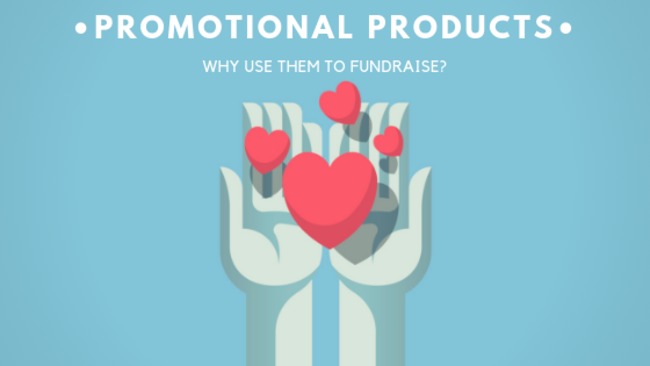 Why Use Promotional Products in Your Fundraising?
Posted on 2018-12-06 by Jennifer Taylor
---
The idea may be counterintuitive – why pay money to raise money? We have all your answers here as to why promotional products should be used in your fundraising.
Promotional products generate countless brand impressions. This is an important function when it comes to fundraising as you want your brand/business – and the goodwill of the contribution – to stay top of mind for days, weeks and months to come. Also, your main objective of fundraising is to generate revenue. This could be to raise money for school supplies and teams, field trips, church events, youth group mission trips, non-profit organizations, a sponsored 5K walk or run, or so much more!
Although generating revenue at fundraisers isn't wholly dependent on having a product for them to buy, but it does help. Promotional products give your donors something to keep – a memorabilia of their generosity. This can do two things – 1. Increase generosity because they will receive something in return (influenced by the item's perceived value), and 2. Increase awareness because your promotional products are easy to display and talk about your cause.
Here are a few ways that promotional products help with your fundraising:
1. Brand your fundraising event's silent auction items.
One way people may fundraise is through holding a silent auction. You need many interested items that appeal to your supporters. The more items that interest them, the more bids you'll get. One of the items that are popular are themed gift baskets and using promotional products for fundraising is a great way to create highly desirable silent auction items. For example, if you customize a tote bag with your brand instead of a basket, it is a win-win. The tote makes it easy for buyers to transport their winnings home at the end of the night and they'll continue to see your logo long after the event is over.
2. Give your silent auction supporters a memorable fundraising premium.
Even if your attendees don't win anything, don't let them go home empty-handed. More than half the time, promotional products leave a favorable impression of the advertiser. Another opportunity to use promotional products for fundraising is to send attendees off with a clever thank you gift. One fun idea is to take photos of all your guests as they arrive. Print the photos and put them into a custom wood frame with the name and date of the event.
3. Use ornaments for Christmas fundraising for schools, teams, or sports.
Do you have a booster club or need fundraising for school activities? Ornaments at Christmas time are the best ways to do this. Customize your team logo, school logo or slogan and utilize them as a fundraising item for parents and customers a like!
4. Promotional products will reflect your brand.
When choosing an item for your supporter, be aware of reflecting what your brand represents and pick items that reflect that. For example, if your brand is more comical, you may choose items that are more fun and goofy. With promotional products, there are thousands of choices you can have.
There are many ways to use promotional products as a fundraising incentive and it doesn't have to be just adding your brand logo. Some will also add a simple thank you message such as "proud sponsor of…" or "thank for your support." There are also many types of products you can offer as gifts or to resell with your logo such as mugs, tote bags, pens, t-shirts, hats, bracelets, stress relievers, sports balls, PopSockets and more! More elaborate campaigns may utilize several different gifts. Having multiple types of gifts also allows you to create gift packages by combining the gifts or offering choices.
However, if you need to keep it simple, there are ways to do this as well. Some of the most successful fundraising campaigns have been run by boost programs for local schools as previously mentioned. Parents and grandparents are asked to donate and are provided with a token item to identify them as supporters.
The possibilities are endless when it comes to using promotional products for your fundraising events. Visit our site to see the variety of items to best suit your brand and your event's needs!
---