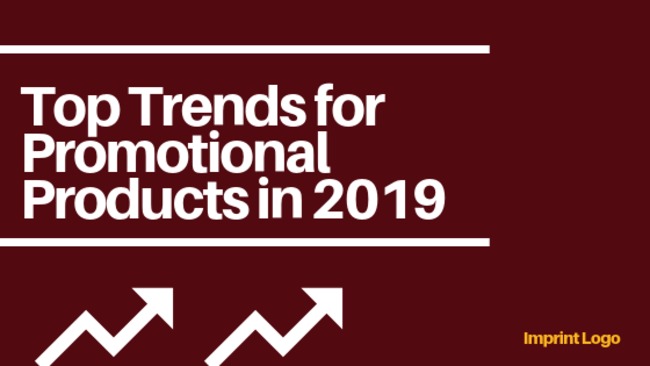 Top Trends for Promotional Products in 2019
Posted on 2019-01-03 by Jennifer Taylor
---
2018 has been an amazing year for the promotional products industry. According to a survey, more than 80% of consumers like receiving promotional products, and more than half kept the items they had received from a business. More than 70% of the respondents also said that receiving such items resulted in an increased recall, and more than half of them said that they would do business with the company after receiving the items. These numbers show that this type of promotional marketing is still effective despite an increasingly digital world. According to sales data submitted by PPAI, there's been an increase of 5.9% compared to 2017. To keep on this upwards trend, organizations and businesses will need to invest in trending products and keep up with the latest industry practices.
It is essential to know that the products that are considered trending this year may not always be popular the following year. This is due to the constantly shifting consumer behavior and preferences. Businesses need to capitalize on high trending products the earliest they can.
Here are some of the latest trends so you can stay at the top of your marketing game:
· Products that have Longevity – these items can include kitchen promotional products such as reusable grocery totes, potholders, oven mitts, mugs, timers, kitchen brushes, and other kitchenware or items used in the workplace such as notebooks, pens, memo pads, sticky notes, etc.


· Eco-Friendly Items are On the Rise – Everyone wants to be eco-friendlier. Not only ones that are biodegradable but are also manufactured sustainably. According to ASI impressions study, nearly 65% of end-buyers say they prefer to keep promo products that are environmental- friendly. Therefore, it would be a wise move to invest in these types of items. Some examples include recycled notebooks and journals, recyclable water bottles, and organic canvas tote bags.


· Focus on the Millennials and even the Gen Zers. – Unique, useful and innovative promotional products favored by millennials and Gen Zers are gaining in popularity over more conventional items that Gen Xers may favour. Millennials have become the key financial decision makers of their household and their purchasing power has been increasing. When looking for promotional products geared towards this specific group, keep in mind that they value innovation, experiences, and sustainability.


· Wireless will continue to be a trend. – Promotional tech products such as wireless eye buds, or headphones, will continue to trend. They're lightweight, portable and are a great way to show off your brand's logo.
· Unique Colors and Patterns Will Stand Out – Vibrant and festive colors will dominate this year so it's best to choose promotional luggage tags, tote bags, satchels, pens and outdoor gear in bright corals, lavender, electric blue and cherry red. When it comes to textures, leather-like, matte, wood train and smooth metallic textures will be your consumer's preference.
· Sports & Fitness Items Will Become More Popular – Brands that appeal to the growing population of sports and fitness enthusiasts are bound to stand out. Anything from sports bottles, stress balls, towels, baseball caps, and golf accessories. Duffel bags, yoga mats with carry cases and drawstring bags are also trending in this industry right now.
Before ordering hundreds or even thousands of promotional products, make sure that you don't waste precious monetary resources on products that recipients would likely throw away or are unrelated to your business. Have a clear purpose for your marketing campaign – is it to introduce them to your new business, product or service, or to obtain more customers/clients?
If you're unsure about which promotional products to choose, we'd be more than happy to help you out! Check out our last blog about the 10 Hottest Promotional Products for 2019 or give us a call (1.800.648.9309)!


---