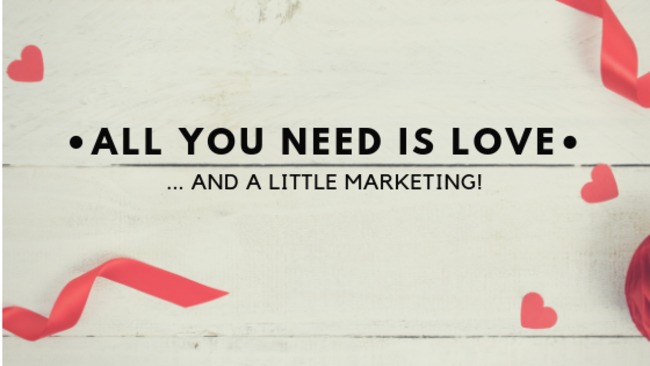 All You Need is Love... and A Little Marketing!
Posted on 2019-02-01 by Carol Burns
---
Flowers and Jewelry might be a great gift idea for your loved one, but what to do about your business associates and customers? Yes, you can show them some love too with the right advertising or marketing campaign.
Here are some of the top Valentines Day marketing ideas:
-Social Media Campaign - Use your social media accounts to connect with the romantics among your followers. Both Instagram and Facebook allow you to make polls in your posts. Why not ask your followers what they like to buy for Valentines Day gifts, or how they celebrate it with their significant other? An easy but effective way to boost your interactions and make people smile.
-Offer a 2 for 1 deal for couples - This is particularly effective for Restaurants or anywhere that people tend to go for date night. Offer 2 for 1 appetizer, 2 for 1 admission, 2 for 1 on your promotional T-shirts, cell phone accessories, or even matching water bottles or fanny packs. Couples love to do things together and giving them a deal makes them more likely to frequent your business.
-Support a local Charity - Support your Children's hospital or local Heart Clinic with a debossed wristband. Imprint with any message and sell to raise money for your cause.
-Let your employees know you care - leave each employee a heart-shaped stress reliever on their desk with a little note thanking them for everything they do.
-Customer Giveaways - Whether it's at a Trade Show or your regulars customers, people LOVE to get free things! Custom imprint your company logo or message on a Custom Flashing Heart Button, Heart Shaped Magnet or even a Heart fidget spinner and shower them with love.
True, not everyone likes Valentines day, but everyone likes to feel appreciated and recognized. It's easy to make people feel that way whether by having a promotion or giving custom imprinted giveaways, but most of all by being genuine and simply saying "Thank you for being a part of our business"
1.
---