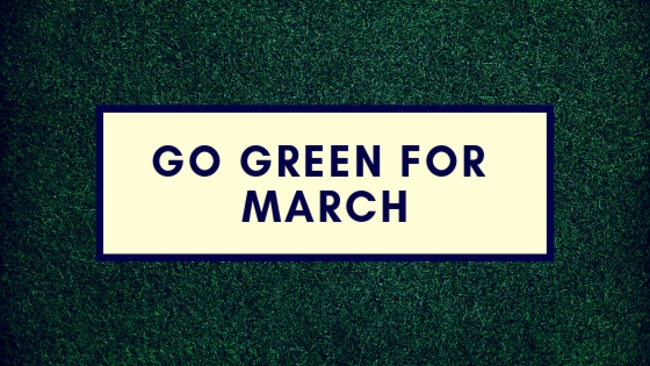 Go Green for March
Posted on 2019-03-01 by Jennifer Taylor
---
Green is the color for the month! Why's that? Well, green for spring with new life and then the focus is shifted onto environmental matters going into April… We also focus on green for St Patrick's Day and much more! With all these events coming up, let's look at our green items for your promotional needs!


1. St Patrick's Day
If you're looking for some St Patrick's Day giveaways, we are like the pot of gold at the end of the rainbow. We have all the fun party and promotional products you'll need to keep things green - https://www.imprintlogo.com/St__Patrick_s_Day-c-598.html. From t-shirts to shamrock shaped items, check out some ideas:
This LED Glow up is the perfect party cup! Use this for your St Patty's Day celebrations and watch your guests' faces light up!
Custom Shamrock Flashing Pins
Get the luck of the Irish with these blinky green shamrock body lights! Light up the pub in true Irish style. These shamrocks are perfect at parties, bars, and nightclubs!
Squeeze the stress away with the luck of the Irish! Imprint it with your custom logo and it's sure to be a hit!
1. Eco-Friendly
It is just that easy being green… consider using environmentally friendly products for your promotional products and giveaways. We have a whole selection - https://www.imprintlogo.com/Environmentally_Friendly_Product-c-286.html. Not only are you saving the planet, but your brand will be remembered for doing so! Here are just some of the products we offer:
Instead of utilizing plastic bottles, try not just try one that's made out of reused materials and can be used again and again? This 32 oz. water bottle is molded with post-consumer recycled PETE. Made in the USA, these eco-friendly beverage containers feature a push-pull lid, heavy-wall design for multiple uses and bright transparent color choices. Plus, it's BPA-free!
GoingGreen® Inspirational Appointment Calendar
I know it's March but a calendar is something to consider when looking ahead for your promotional plans. This beautiful, informative calendar is made with recycled materials. This eco-friendly stapled calendar features high-quality imagery and green living tips for each month. Ideal for financial, insurance and health care facilities.
Custom Imprinted Folding Grocery Bag
The classic tote bag has become ever so popular especially when a lot of grocery stores have decided to charge for plastic bags. Whip your advertising plan into shape using this folding grocery bag! The reusable tote folds into a pouch for storage and is designed for over-the-shoulder carry.
1. March Madness
Last but not least, March Madness is coming up! Put the green theme and basketball together – green basketballs anyone? (https://www.imprintlogo.com/mini-cheerleaders-throw-basketballs-p-438.html)
Check out all these and more on our website: www.imprintlogo.com or www.minithrowballs.com for all your promotional products needs! Enjoy going green this month!
---