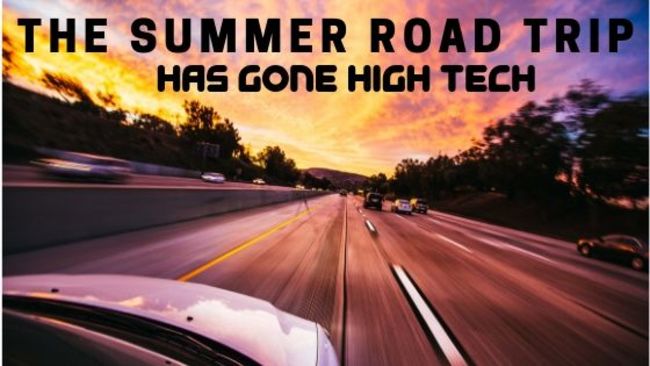 The Summer Road Trip has Gone High Tech
Posted on 2019-07-19 by Carol Burns
---
Remember when you were a kid and the family would jump in the car for a road trip? You loaded up some pillows, some snacks and drinks, maybe even the family dog. Mom would have the big map that you could never fold back the original way, giving Dad directions to turn up here, and yelling "No, No don't take a short cut!" and the kids would be in the backseat playing "I spy" or "Road Bingo". It was pretty basic, and a lot of fun.

Skip ahead a generation (or two) and things have changed thanks to all the mobile devices. The kids have i pads streaming movies or YouTube, Mom now has an app that tells you exactly where to turn and how far to go and even your estimated destination arrival time. We use our phones to map out our routes, book camping sites or hotels, entertain ourselves in the car. You can plug your phone into your car and stream music right from your Road Trip playlist, or listen to a Podcast to pass the time. Instead of Dad driving aimlessly looking for the next gas station or bathroom, you can find an app that tells you where the closest one is.
Once you arrive at a destination, you can use your devices to look for things to do from hiking trails to water parks to historical landmarks. There is virtually no limit to how useful a mobile phone can be. You can look for restaurants or order food delivered, find a pool to cool off in or a beach to play on. Family photos? No problem, snap pictures all day and upload them for your friends and family to enjoy the same day. You can text loved ones to let them know you've arrived and everything is okay, and they can reach you at a moments notice.
While the world has embraced all this technology, it does take a bit of the magic away from the old school road trip. No accidental detours, no looking at the map and picking a spot with your eyes closed to go to next. With everyone plugged in there's less family conversation and interaction too. So while the technology is great for so many things, remember to put it down sometimes too. Play a game of "I spy" or entertain the kids with tales of the road trips from your childhood. You still have to pack snacks and drinks, maybe some pillows...and the family dog. Oh and don't forget all the chargers for those devices and the selfie sticks to make sure everyone is in those family photos.
Wherever your road trip takes you this summer, we hope you have a safe journey and make some incredible memories.
www.imprintlogo.com www.minithrowballs.com
---