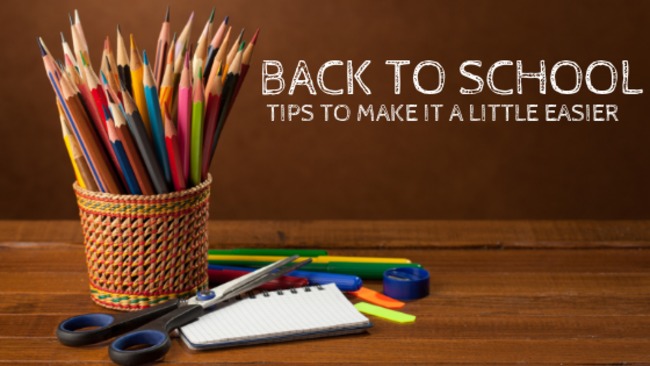 Back to School - Tips to make it a little easier
Posted on 2019-08-16 by Carol Burns
---
It's that time of the year again, leaves are changing colors, the air is feeling cooler, and students (Well some of them) are looking forward to going back to school. This generally means a great deal of adjustment for the entire family, so here are some of our tips to make it a little easier.
*Shop early for back to school clothes. In this age of online shopping, sometimes the easiest way to shop is to get it delivered early in the summer break, and then let them try it on when they are in a good mood, not when they HAVE TO. Getting their school shopping done early means time to return anything they don't like, and less stress heading into the end of summer.
*Start getting them to bed at the time they would generally go on a school night. It takes a week or two to get used to going to bed on time and waking up early. The entire family should be getting into a "normal" bedtime routine, including Mom and Dad, who might have started enjoying the glorious feeling of sleeping in. Make sure to consider things like bath time or shower time before bed as well if that routine has gone astray over the summer. Let them practice picking out what clothes they want to wear in the morning too.
*New school years can bring on anxiety in children. See if you can go to the school and arrange for your child to meet their teacher and tour their school and classroom before the school year starts. Explain what will happen on their first day in terms of being dropped off, picked up, or if they will walk themselves, make sure they are comfortable with the route.
*Create a place to collect school bags and homework as well as making a space of their own to do homework. Make sure that each child knows exactly where their belongings go so they can easily collect them in the morning. If you want to avoid putting their names on items like backpacks, lunch bags etc, try adding a ribbon of color on them, so each child has their own color. Create an inbox for kids to leave things that need your attention like permission slips or newsletters.
*Refresh your rules about screen time BEFORE school starts. Be clear about what is allowed and when and for how long. Make sure that their homework space is clear from distractions like TV's and video games. Set up play dates with some of the other children in their class if possible to relieve social anxieties. Plan some fun family outings together for weekends during the school year. This makes it feel like there are some fun things to look forward to when ever stress starts to creep in.
Above all, talk to your kids about how they are feeling about the new school year. Let them know it's OK to have doubts and talk through them with your children. Schedule regular check in times throughout the school year so they get used to talking about how things are going. And while you are doing all of these things to get them ready for the trip back to school, make sure to schedule some self care time for yourself too.
www.imprintlogo.com www.imprintlogo.com
---