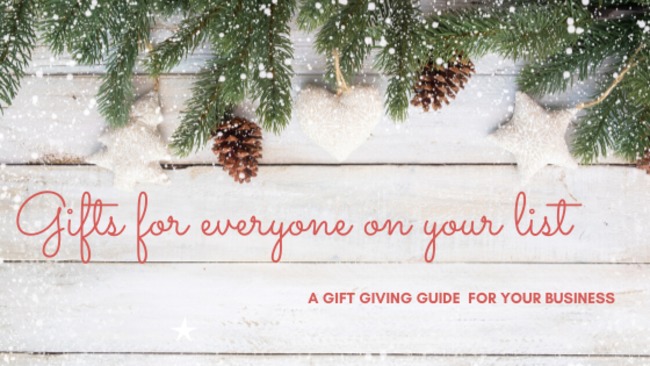 Gifts For Everyone On Your List
Posted on 2019-11-15 by Carol Burns
---
2019 is ending and it's time for making that Christmas list. It's a given we want to give gifts to our loved ones, family and friends, but what about people that support your business daily? What can you do to let them know how much you appreciate them? Here are some great gift ideas that will keep you off the naughty list.
Customers love receiving promotional items as it makes them feel appreciated by a company. Whether it's a beautiful Christmas Ornament, a stainless steel travel mug to keep their coffee warm, or a warm and cozy beanie to wear for the winter your customers will remember your generosity.
Associates are another important group to remember during the holidays. Whether it's your employees that work hard for you every day or other businesses that you count on to help keep your business running smoothly, a small token goes a long way in saying thank you for a job well done. A beautiful pullover with company logo makes a statement and will be used for years to come. Power banks or car chargers are also a trendy but useful idea, or go with the Charge-It Bracelet for a truly unique gift idea.
Executives that have an important role in your company might seem a bit harder. You want to make sure they feel like they are valued for their hard work and input. A leather portfolio gift set with the company logo or message embossed on it is a sure fire way to impress. Do your executives travel for business a lot? The Casablanca Luggage Tag set is a perfect gift to remind them they are a significant part of your organization. Want a more traditional gift idea? You can't do better than a gorgeous deep etched decanter and if you feel so inclined, a bottle of fine scotch to fill it with.
Future Customers should not be forgotten either, the ones you might meet at a trade show or that you want to invite to get to know your business. There are so many simple inexpensive promotional items that you can use for this group. Stress relievers are an awesome way to get your logo or brand into their hands, literally. Christmas ornaments are a sure fire way to make them smile as well as activity packages for the kids. Anything that is geared towards mobile devices is guaranteed to be a hit as well, like this Mobile pocket and earbuds set.
The biggest thing to remember is that it's not the size or cost of the gift that matters, it's the gesture. Making people feel remembered and appreciated is one of the best gifts you can give to anyone. We are more than happy to help you find the perfect gift idea for whatever group you need. Visit us today at www.imprintlogo.com or www.minithrowballs.com and make this the best season for your business.
---