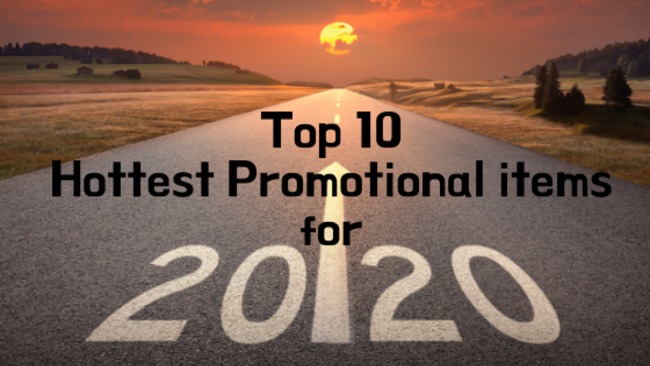 What's Hot in 2020!
Posted on 2019-12-16 by Carol Burns
---
A new year brings new exciting gizmos and gadgets to us all. In the promotional world this means keeping trendy with our marketing campaigns and promotional items. We've compiled a list of the hottest promotional products of 2020 to keep you up to date on the latest quality custom printed products! In true "New Years" fashion, we have counted down from 10 to 1 to show you the trending products (in no particular order)!
#10. Yeti Tumbler – If you want to sip your way to promotional success, this well known branded tumbler will do the trick. Many clients and customers take a drink to work so this is the perfect way to remind them of your business! Customize with an imprint of your company name and logo for maximum brand exposure on a product that will get plenty of use!
#9. USB/Flash Drives – Make digital backup, storage and transfer a breeze with a tech essential that's perfect for your advertising goals. With everything digital these days, having a USB/ flash drive is quite handy to have around. With a marketing opportunity like this, don't miss out on branding your own USB! Coming in several different options such as size, colors, and shapes, pick one that resonates with your business and has your potential customers talking about it again and again!
#8. Chargers and Adaptors – Cell Phone Accessories continue to be on the list . Whether for your home or on the go we have something to keep everyone powered up. We offer a wide variety to keep you connected from home, school or in your car. Keep your brand within your customer's reach at all times!
#7. Personalized Ornaments – The holidays may have just finished but ornaments are a routine item that gets displayed in your home every year. What better way to remind your customers of your brand? We offer a large selection of fun and unique custom ornaments, ideal for promotional giveaways, school or church fundraisers or as team gifts before winter break. Our beautiful line of unique personalized ornaments is available in many designs such as glass-etched, full color imprint or as festive characters. These little beauties are also good as school or team fundraisers as well!
#6. Plastic CustomThrow Footballs - A classic #1 seller, these mini footballs will sure be a hit at any event, trade show or function. With the big game (aka Superbowl) coming up later this month, it's time to start thinking of ways to celebrate. Turn a boring conference or meeting into a fun team building event with these personalized mini footballs. Your logo makes these custom 6-inch plastic footballs an impressive advertising or marketing tool.
#5. Stress Balls & Relievers – Everybody's got stress. We have new stress relievers in all shapes and sizes…. Idea for promotional giveaways, we offer a large selection of fun and unique custom shaped stress balls. From animals, airplanes, animals and other shapes, styles and colors, we promise you will be able to advertise your next event with an eye-catching custom stress reliever or printed stress ball. Sit back, relax, and let us do the work as we custom print your special product!
#4. Imprinted Apparel - What better way to promote your brand than having your customers wear it for you? T-shirts and Hoodies remain one of the top promotional items this coming year. We have a huge selection of apparel including shirts, jackets, hats, sunglasses and even swim caps! No matter what your company represents, we have the item to put your logo or message on. Great marketing tool for any school, restaurant, festival or trade show.
#3. Pens - Pens remain one of best tried and true promotional items. Not only are there so many fun varieties to choose from but it is one of the most enduring advertising tools you will ever find. People keep pens everywhere and they are always being loaned, borrowed or stolen. You brand will be passed around for years to come and be seen by hundreds of people.
#2. PopSockets – Everyone has a mobile device and this is its perfect companion! Sticks flat to the back of your phone, tablet or case with its repositionable gel! Once extended, the PopSocket becomes a media stand for your device, a photo or texting grip, or even lower it for a video chat. The possibilities are endless! With full-color imprinting, so are the imprint possibilities! The back of anyone's phone is prime real estate for any promotion and the best part? PopSockets can be used on any brand of phone!
#1. Mini Basketballs – Our hottest seller! From 5" foam basketballs to desktop basketball globe games, we have all things basketball. Choose from a wide range of mini basketballs in different colors and materials. With exceptional bulk pricing and custom printed and personalized with brand and logo, we are your one-stop shop! We also do mini trophy photo basketballs that can be used for awards, trophies, or unique giveaways.
… And there you have it! These are just ten of the THOUSANDS of promotional products we offer! New items are arriving weekly so check back often! Don't miss out on your next branding opportunity…. www.imprintlogo.com
Check out our www.minithrowballs.com site for even more items.
---